Winter 2019 Newsletter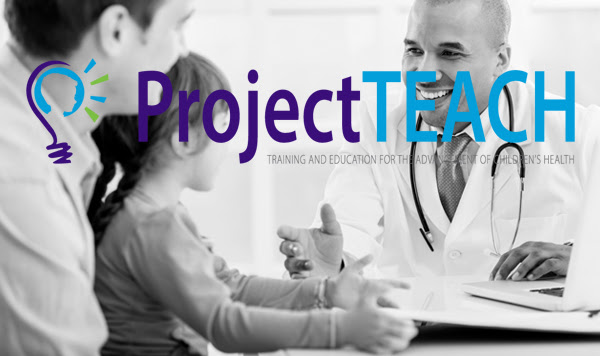 The Winter Edition of your Project TEACH newsletter is here!

This newsletter highlights helpful articles, resources and links related to children's mental health. It also lets
you know about new trainings and resources from Project TEACH. Our goal is to help you stay up-to-date with news and
information so you can make informed decisions for the patients and families in your practice.

Introducing our Maternal Mental Health Initiative

1 in 7 moms and 1 in 10 dads experience postpartum depression

In 2018, New York State launched a broad effort to combat maternal depression. Maternal depression and related mood
and anxiety disorders are prevalent. If you can identify and treat these conditions early, it leads to better health
outcomes for mothers and children. Project TEACH is a part of this cross-systems effort.Services available through
the Maternal Mental Health Initiative include FREE consultation services – New York maternal health providers can
join and benefit from case-based learning with their peers. Consultation with expert psychiatrists in maternal
mental health is available through an open conference line. Hour-long interactive consultation calls take place two
times per week. Providers may also schedule a 10-minute call during consultation line hours to ask a specific
question. Project TEACH Regional Providers are available to provide local linkages, referrals and resources. Please visit this page for more information.
---

Check out the Family Resource Page

The Parent and Family page on Project TEACH's website is an incredible resource for your patients and their
families. With numerous articles and resources for parents such as how mental wellness improves their child's life,
as well as warning signs for any mental health concerns, the page offers a wealth of information. There are helpful
videos including "What to Discuss During Your Child's Primary Care Visit" and "Mental Wellness in Children Ages
0-5." The Clay Center at Mass General creates the content for this page.
---

Takeaways from the Annual Forum

The Annual Forum was held on September 14, 2018. Its purpose was to incubate strategies and solutions for moving
prevention science from policy to practice in New York State. Attendees were policy people in the state. Here are
some key takeaways from three of the presentations:

Dr. Polina Umylny, PhD – Assistant Director, Pediatric Behavioral Health Integration Program
(BHIP), Montefiore Medical Center/Albert Einstein College of Medicine
» Universal Parental ACEs screening can identify children at risk within primary care. Interdisciplinary
collaboration with medical providers, nurses and front desk staff is critical for engaging buy-in into universal
screening and for developing effective and efficient workflows. Staff education, booster sessions and a plan for
orienting new staff is also important for supporting this process.
» Asking the questions does not re-traumatize the parent, but rather gives them an opportunity to reflect on how
their traumatic childhood experiences have shaped their life and informed their choices, including parenting
decisions. Asking the questions and having ongoing conversations around the impact of trauma serves to decrease the
stigma around trauma and mental illness. However, it is likely that parents are still under-reporting, making it
important to be mindful of how and where the questions are asked.

Ms. Suzanne Brundage, MS – Director, Children's Health Initiative, United Hospital Fund
» Early identification of psychosocial needs in young children is an essential component of prevention science.
Child-serving primary care practitioners are well positioned to identify these needs through routine screening but,
once a need is identified, providers often need to collaborate with community-based human service and behavioral
health organizations to address these needs.
» Despite growing interest in social determinants of health, such coordination and collaboration between health care
and social service providers is complex and unlikely to scale rapidly without external intervention. Policymakers
and foundations should invest in the development of clinical-community partnerships by helping health care and
social service organizations develop relationships, plan and test joint systems of care for vulnerable families,
build bi-directional communication systems, and track outcomes.

Dr. Laurie Miller Brotman, PhD – Bezos Family Foundation Professor, Early Childhood Development;
Professor, Departments of Population Health and Child and Adolescent Psychiatry; Director, Center for Early
Childhood Health and Development, Department of Population Health, NYU School of Medicine
» Creating safe, nurturing predictable environments at home and school helps all children develop self-regulation
skills that are the foundation for learning and healthy development.
» Pairing public pre-k with an evidence-based, family-centered preventative intervention is a strong approach to
reducing income and racial/ethnic disparities.
» Preventive interventions for families from historically disinvested neighborhoods should be culturally relevant,
rigorous and real by centering the voices of people of color throughout all aspects of dissemination, implementation
and evaluation.
» Race matters in all systems including education and health care. Systematic racism contributes to disparities in
health, achievement and well-being and threatens the full brilliance of all children and families. It is our
collective responsibility to interrupt this pattern.
---

Making a Difference in the Lives of Children and Families Across New York

by Dr. David Kaye, Project TEACH Region 1 Medical Director

I eagerly opened up the box of chocolates from Sweet Jenny's and much to my delight they were as good as their
locally made ice cream. As is my wont, I then opened up the card, which was a thank you note from one of the
pediatric practices in Western New York we have worked with a great deal over the years. We have worked with all the
pediatricians in this group and many cases came flooding to mind.

Continue
reading about three notable successes, 'wins for the team.'
---

The Project TEACH website now offers access to free, CME-certified webinars for pediatric primary care providers in
New York State. Topics include diagnosis and treatment of anxiety, marijuana use, ADHD, and more. Participate any
time your practice schedule allows.
---
---

A 24-Hour Resource: Crisis Text Line

The New York State Office of Mental Health has a partnership with Crisis Text Line, a national not-for-profit
organization, to provide free, 24-hour text-based support for people who are experiencing a mental health or
situational crisis. Read more about this valuable resource on the Project TEACH blog.