Project TEACH helps you provide the best possible care to women both during and after pregnancy
This initiative gives you direct access to mental health experts who can provide guidance through:
Project TEACH provides real time access to reproductive psychiatrists to address your questions about how to help your patients with maternal mental health concerns. For timely consultations in real time with a reproductive psychiatrist call us at:
1-855-227-7272 Monday-Friday 9am – 5pm
For nonurgent questions email us and we will respond within 2 business days.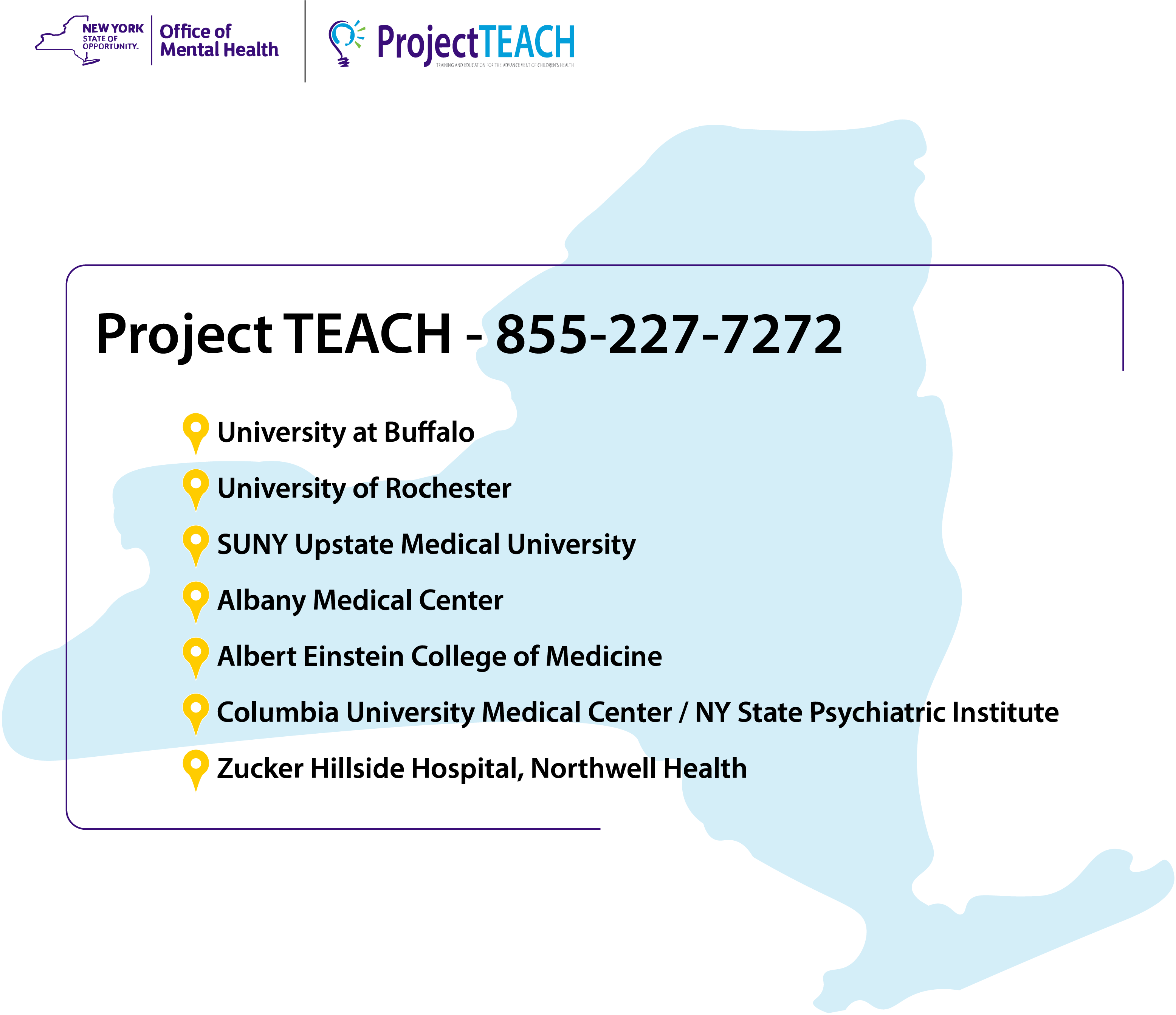 Linkage & Referrals
Our Liaison Coordinators are here to help identify mental health and related resources in your community to assist your patients. Each hub Liaison Coordinator has comprehensive knowledge of what resources are available in their region of the state, together providing expert knowledge of the whole state. For help with referrals call us at 1-855-227-7272 Monday-Friday 9 am-5 pm.
View Liaison Coordinators
Maternal Mental Health Training and Webinars
Maternal Mental Health Intensive Training - Spring 2023 Virtual Training Series "Essentials of Perinatal Psychiatry:
Psychopharmacology and Psychotherapy"
Monday, March 13, 2023 ● 9 am - Noon ● Event Details and Registration
To view our Upcoming Webinars please click here.
Perinatal Psychopharmacology
The Impact of Social Determinants of Health on Maternal Mental Health
Integrating Maternal Mental Health into Obstetrics: An Employee-Based Insurance Model
Late Stages of Developing an integrated Maternal Mental Health/Obstetric Practice
Early Stages of Developing an integrated Maternal Mental Health/Obstetric Practice
Maternal Equity and COVID-19 Panel Discussion
Maternal Mental Health Resources
www.crisistextline.org
TEXT "Got5" to 741-741 from anywhere in the United States, anytime, about any type of crisis.
ocfs.ny.gov
Child Abuse Hotline, at 1-800-342-3720. Calls to the hotline are anonymous; callers' identities are protected from disclosure.
Provider Resources for Maternal Mental Health
Women & Family Resources for Maternal Mental Health
mindbodypregnancy.com
Dr. Anna Glezer: A physician's expert guidance on your mental health & emotional well-being during pregnancy, delivery, & postpartum. Articles, guides, & advice on mood, anxiety, mental illness, hormones, treatments, resources, & many others.
www.postpartum.net
A guide on how to find and work with birth and postpartum doulas provided by Postpartum Support International.